The City of London (La City de Londres) es un distrito en el corazón de Londres, al norte del Támesis. Además de muchos monumentos antiguos como la Catedral de San Pablo, es el centro financiero de Gran Bretaña y Europa. La ciudad de Londres se caracteriza por sus modernos rascacielos de cristal y acero. Los rascacielos albergan bancos, sedes de grandes compañías de seguros y otras compañías financieras. Todavía no está claro hasta qué punto afectará a la ciudad el proyecto de Brexit (a principios de 2020).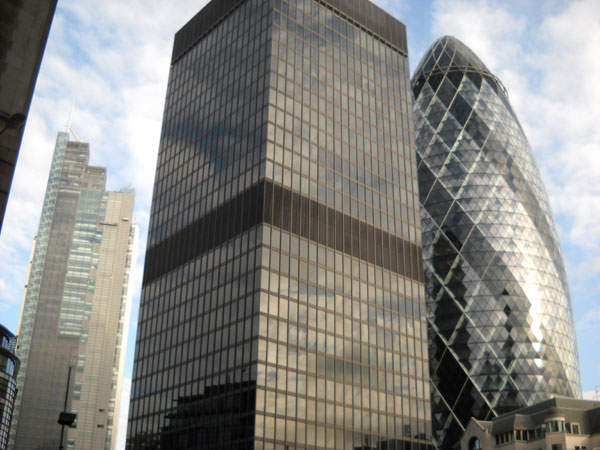 También se pueden encontrar importantes edificios oficiales en la City de Londres. Sobre todo el Banco de Inglaterra. Es el banco central de Gran Bretaña y la libra esterlina, la segunda moneda más importante de Europa después del euro. No muy lejos del Banco de Inglaterra se encuentra el imponente edificio Royal Exchange. Antes era una bolsa de valores, pero hoy es un centro comercial con tiendas de lujo.
El edificio más interesante de la City de Londres por su gran arquitectura es el famoso Lloyd's Building (foto de abajo). Aunque ya se construyó en los años 80, todavía parece hipermoderno. Lo inusual de la arquitectura es que los ascensores y, sobre todo, las tuberías de suministro, circulan por las tuberías exteriores del edificio.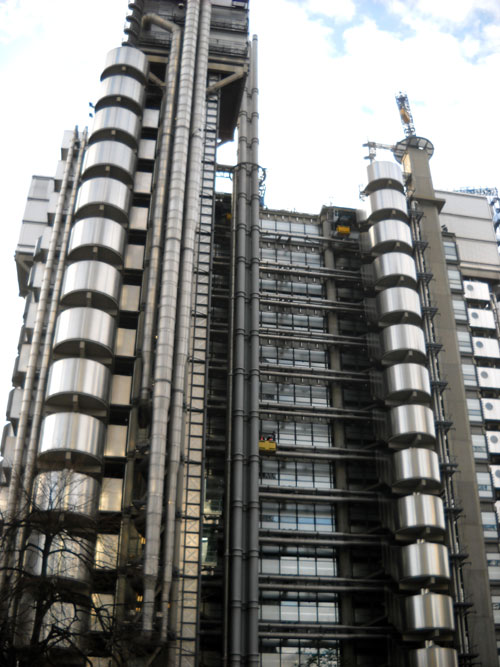 Detrás del Edificio Lloyds se encuentra el Leadenhall Market. Un paseo por la City de Londres puede combinarse con una visita a la Tower of London y al Tower Bridge. Estos dos lugares de interés turístico de Londres están a sólo 10 minutos a pie de los rascacielos de la City of London.
Aquellos que quieren ahorrar en las vacaciones de Londres no necesariamente deben ir a la ciudad de Londres para comer o ir de compras. Es probablemente el distrito más caro de Londres.
Cómo llegar a la ciudad de Londres: Hay varias líneas de metro que pasan por la ciudad. Usted está justo en el medio cuando se baja en la estación con el simple nombre de "Bank". También "Monumento", "Aldgate" y "Tower Hill" no están lejos. El Dockland Light Railway conecta la ciudad de Londres (estación de metro Banks) con los Docklands, el segundo centro financiero más importante de la ciudad.